Director House of bonesetting ebesuya Osamu Higashio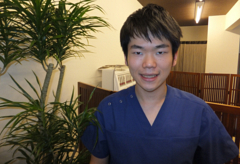 The name:

Osamu Kawano will

(Masashi of asking)

Post:

House of bonesetting ebesuya Osamu Higashio

Director

House of bonesetting ebesuya Innoshima

Assistant director

Qualification:

Rev. judo reposition

Function training instructor

Hometown:

Innoshimaohamacho, Onomichi-shi, Hiroshima

Favorite food

:
Sushi, Hiroshima okonomiyaki, Sanuki-udon

Hateful food:

There are none

Hobby:

It is movie trip, hot spring, liquor

Special ability:

Frame reposition, kineshiotepingu
_ nice to meet you. We are Kawano of director.
Japanese medical care was remarkable, and it developed in this _ several decades.
Kinds of illness increase in _ but one, and there is medical institution in the present conditions that diagnoses become difficult in various "non-illness" before getting sick, too.
Through medical technology of Rev. judo reposition that has been inherited as traditional medical care of _ ebesuyaha Japan, we want to contribute to health of the nation, recovery of sickness and wound.
At first thing running out of _ size is to prevent sickness and wound by doing everyday physical care.
It is to do curative treatment appropriate immediately to control in as possible minimum state when sickness and wound also occurs _.
When facility called the House of _ but bonesetting is place that is hard to be included to first patient very much, we recognize.
As we disclose information using _ ebesuyadeha formula homepage or social net service positively, because there is much use of House of first treatment, the threshold is low, and the next House is bonesetting House which it is possible for casually.
We do not mind even _ trifling physical consultation. Please talk with physical expert once without being troubled alone.
Mainly on frame reposition of empty hand therapy that is the origin of _ ebesuyadeha "medical treatment", we do on the basis of nature cure "easy for mind and body" that there is not of side effect if possible.
_ all of you come and they give an explanation about hearing of symptom, inspection of frame, sickness and wound state and treatment regimen to be done, and to have you treat in peace and House is clear and does for low charge setting.
We adhere to _ hometown, and thank you I would always like relationship of mutual trust in long one wanting to associate with all of towns carefully.
House of bonesetting ebesuya Osamu Higashio reception desk office work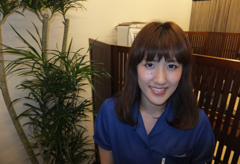 The name:

murajo*yoshi

(murakaminayu)

Post:

Reception desk, office work

Hometown:

Innoshimahabucho, Onomichi-shi, Hiroshima

Favorite food:

Ramen, sour food

Hateful food:

Ripe fruit

Hobby:

Movie viewing, shopping fashion

Special ability:

Tongue twister
Nice to meet you. We are Murakami of reception desk office work.
We do our best hard to support director.
Thank you in advance